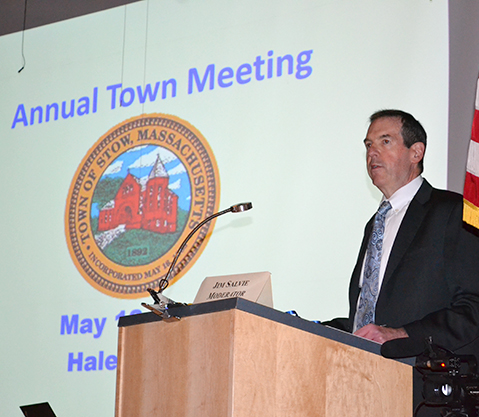 By Ann Needle
May 14, 2023
In an Annual Town Meeting with a packed Warrant, meaty article content, and ample debate, residents approved all but one of the 69 articles during the 6-1/2-hour meeting. Voters rejected a closely-watched citizens' petition (Article 67) calling for allowing drive-through food establishments in Stow' business-zoned districts.
        As expected, many comments centered on the Planning Board's Article 63, which creates a Lower Village Business District. The intent behind Article 63 has been to attract more merchants to the area's empty storefronts by allowing for changes such as more types of businesses, better pedestrian access, and smaller buildings. At 163 votes in favor and 30 votes opposed, the article landed the two-thirds majority vote needed to pass.
Before ATM passed Article 63, resident Dorothy Granat successfully submitted a request to amend it, striking out a line allowing the Planing Board to lower buffer zones to 30 ft. or less. She argued that other Town businesses are required to have at least 50-ft. buffers, and that Lower Village businesses could lobby the Town for smaller buffers, if needed.
Article 67's citizens' petition was rejected by a 124-36 vote with minimal debate. Before the vote, Planning Director Valerie Oorthuys explained that, while the "yes" on Article 63 banned drive-throughs in the Lower Village Business District, passing Article 67 would have meant they would be allowed in the other business plots at Hudson/Great roads and Great Road/Harvest Drive.
The Independent will have more details on the ATM votes in its May 17 issue.