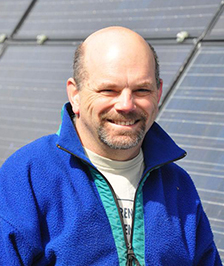 David R. Conna, 61
Energy Conservation Consultant and Climate Activist
David R. Conna, 61, of Stow, died on Tuesday, May 30, 2023, less than nine months after a diagnosis of metastatic neuroendocrine carcinoma, a rare and incurable cancer. At the time of his diagnosis, Dave was a fit, active, long-distance cyclist and hiker. His decline and death were far quicker than anyone expected, leaving friends and family stunned at his abrupt passing.
Dave was born in Durham, North Carolina in 1961, the son of Dr. Sherrill A. "Ted" Conna, a child psychiatrist, and Mary Lou (Kolbe) Conna, a former schoolteacher. He grew up in Durham, and from 1968 on, in Westborough, graduating from Westborough High School in 1978. He graduated from Clark University in 1982 with an interdisciplinary degree in Science, Technology, and Society and a concentration in physics. As a young man he worked as a bank teller, restored a 1963 Chevrolet, formed an upstart moving company called Backstreet Movers, and took a road trip odyssey around the US living in his van. He lived about a decade each in Westborough, Worcester, and Weston, before moving to Stow in 1999.
Dave always loved the outdoors, and he was concerned with environmental sustainability long before it had a name. As one friend said, he was truly a force for the good of the planet. He worked as an energy auditor and conservation consultant at the South Middlesex Opportunity Council, the Framingham-based People's Energy Resource Cooperative, Conservation Services Group, and the Energy Federation, Inc. (EFI) in the 1980s and '90s, and helped build many large solar installations. He later became an independent energy conservation consultant, contracting with Boston Edison and Eversource through the Town of Arlington and later through his partnership, LS Energy Associates, to provide energy-saving retrofits at low-income housing properties throughout Greater Boston. Dave pioneered lighting designs that pushed the envelope to new levels of efficiency. When you walk down a hallway and the illumination moves with you, think of Dave. He was among the first to deploy such motion-sensing controls in utility conservation programs.
Dave loved travel and outdoor adventure of all kinds. He was a longtime trip leader for the Appalachian Mountain Club who biked, hiked, backpacked, camped, and skied extensively throughout New England and beyond. He also loved water sports including scuba diving, canoeing, kayaking, and sailing.
Dave was an avid cyclist. In 1994, with his sister Sheri, he bicycled from Westborough via Doylestown, PA to Los Angeles, retracing the route his grandfather Frank Kolbe had cycled in 1923. Before his cancer diagnosis, he had planned to repeat the bike trip on its 100th anniversary this summer. As a longtime member of Climate Ride, Dave biked over 3,700 miles on 13 rides and raised more than a quarter million dollars for climate change awareness and action.
For over two decades, Dave was a devoted volunteer with SolarFest, a Vermont organization promoting renewable energy to help address the crisis of climate change. Beginning in 2015, when the organization was preparing to disband, Dave joined the SolarFest leadership team and worked tirelessly to re-establish SolarFest as a strong, sustainable organization with an expanded mission including regenerative agriculture, community solar, and workforce training at its new home in Brandon, Vermont. SolarFest would not be where it is today without Dave.
Dave lived by his values and ideals, sustainably and self-sufficiently. At his home in Stow, he installed energy efficient heating systems, solar electric panels, and a charging station for his electric car. Dave was a skilled auto mechanic who usually kept a couple of older cars running, and he took pride in the high mileage he could squeeze out of them. Dave was also a craftsman who often had a construction project underway, and a seasoned gardener who dreamed of living on a farm. He loved animals, and there were always dogs and cats in his life. In the final years of his life, Dave devoted considerable time and energy to helping his mother remain in the family home.
Dave was both highly principled and highly opinionated. Like the family he came from, he was offended by abuses of power, by racism and systemic oppression, by narcissism, consumerism, waste and greed, and by the cavalier disregard for nature and our planet that is the current status quo. He was intense, energetic, idealistic, irreverently independent, and funny as hell. Dave was a loyal, caring, and dependable friend to many, known for his integrity, his sharp wit, and his positive spirit.
Dave is survived by his mother, Mary Lou (Kolbe) Conna of Westborough, his brothers Ted D. Conna of Worcester and Edward Conna of Mountain View, Hawaii, his sister M. Sherilyn McKay, brother-in-law Donald McKay, and nephew Alexander McKay, all of Montague, his uncle and aunt Richard and Margaret Kolbe of Ottsville, Pennsylvania, four other aunts and uncles, and sixteen cousins. Dave was predeceased by his father, Dr. Sherrill A. "Ted" Conna, his grandparents, Leon J. and Dorothy (Porges) Conna and Franklin P. and Eleanor (Callan) Kolbe, and five aunts and uncles.
A memorial celebration of Dave's life will be held at 2pm on Sunday, July 30 at the First Parish Church of Stow and Acton, 353 Great Rd, Stow, Mass., preceded and followed by more informal gatherings at Stow's Town Center Park. For more information, visit here.
Dave's cremated remains will be scattered in places he loved. Those who wish to share memories and condolences may do so here.
In lieu of flowers, donations may be made in Dave's honor to:
Solarfest, P.O.Box 900, North Bennington, VT 05257
Climate Ride, 111 N. Higgins Ave, Suite 415, Missoula, MT 59802
Center for Biological Diversity, P.O. Box 710, Tucson, AZ 85702-0710
Northeast Organic Farming Association, Mass. Chapter, PO Box 60043 Florence, MA 01062
Neuroendocrine Tumor Research Foundation, 31 St. James Ave., Suite 365, Boston MA 02116