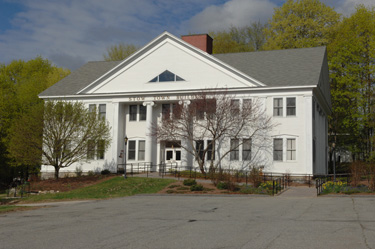 By Ann Needle
The Select Board (SB) unanimously approved the Warrant for September's Special Town Meeting at its Aug. 8 meeting. The SB also voted to support the plan to pay for the extra $2.5 million of the estimated Randall Library renovation, as well as the next step in making the accompanying Common Road one-way. At meeting's end, several Stow business proposals were updated.
The majority of the Warrant's 16 Articles include several changes proposed by the Town Charter Committee. But, two of the Warrant Articles are expected to prompt most of the debate at STM.
Article 1 asks STM approval for the Nashoba Regional School District to borrow $241,714,926 to build a new Nashoba Regional High School. The Mass. School Building Authority is expected to fund a percentage of that price tag, with the remaining balance split among Nashoba's three towns. If it passes, it must then be voted in at Special Town Election on Sept. 23. For the project to become a reality, all three Nashoba towns (Stow, Bolton and Lancaster) must approve the borrowing.
The SB backed Article 2, asking two-thirds of Special Town Meeting to vote in favor of spending another $2.5 million on the Randall Library renovation project. While the 2022 Annual Town Meeting voted to approve spending up to $8.6 million for a new Randall, soaring construction and labor costs are just a few of the factors that have since added another $2.5 million to the price.
In advocating for SB approval, Town Administrator Denise Dembkoski was adamant that the excess would not come from additional taxes, maintaining instead that the Randall Library Building Committee is aggressively cutting costs and pursuing grants to pay the overage. And, Dembkoski emphasized she plans to spend some of that from the Town's Operating Budget.
In a related piece, the SB also voted unanimously to support the Traffic Safety Advisory Committee's (TSAC) proposal to make Common road a permanent one-way during the potential Randall construction process. The next step for TSAC will be a public hearing .
"Anyone who has been to the Library knows you come out of the Library and spill out onto the street," Dembkoski maintained. With speeding traffic using the road as a cut-through to avoid the nearby traffic light, and cars often parking up on the lawn bordering Common, Dembkoski argued a one-way going west would help change the situation.
Town Meeting Moves to Center
Dembkoski announced a big change starting with Sept. 18's STM. That night, Town Meeting will move permanently from Hale to Center School. She explained that Center's all-in-one gym/cafeteria/auditorium can hold up to 1,100 people, a big consideration for an STM expected to draw a crowd. This should also help address the sound and voting clicker issues plaguing the Hale location, given everyone at Center will be in a single space, she said.
Town Moderator Jim Salvi agreed, adding that Center's cafeteria space allows attendees to bring along snacks, which many said could have helped anchor them during May's 6-hour ATM.
As for requests to offer a break during long meetings in the future, Salvi advised the SB it has complete control over whether a Warrant article is included or held for a STM, with the exception of citizen petition articles. He remarked, "When I was on the [Select] Board, that was never made very clear."
The Independent will be sending out complete STM information in its Aug. 30 issue. The issue will include a copy of the final Warrant and will be distributed free to all Stow addresses.
Gleasondale Mill Special Permit Hearing for gun manufacturers and artists
Mentioning concerns from residents, Dembkoski addressed the issue of the upcoming Planning Board public hearing on Tuesday, August 15, over a permit application by the Gleasondale Mill owner to lease spaces to 10 gun manufacturers and 25 artists. Dembkoski noted some residents apparently believe that, because the building is industrially zoned, the Town backs the idea of allowing gun manufacturers in the space.
"This is not a Town position," Dembkoski stressed. "The zoning allows it, we cannot mandate [who uses it]. It's not like alcohol or marijuana, where you can say we don't want it in town." If residents wish, Dembkoski said the Town could help discourage these types of businesses by placing parameters on the permit application.
However, she added that for now, residents should consider that the gun manufacturers would be renting small, 150 sq. ft. spaces to fulfill a federal requirement to have an official mailing address for their businesses. Most of the work would be done elsewhere, such as their homes, Dembkoski said.
She added, "This is not about people coming here at midnight to buy illegal firearms."
Updates on proposed Stow businesses
The SB's Ingeborg Hegemann Clark mentioned she spotted equipment installing a new septic at the former Lower Village gas station across from the Stow Shopping Center. Dembkoski confirmed there is a permit application before the Planning Board to install a car wash/detailing service at what many would agree is a long-running eyesore.
Clark also requested an update on the Dunkin' planned for the former Beef & Ale down the road. Dembkoski said the owners are still very much interested but working through getting their well approved by MassDEP. She explained the proprietors want the well grandfathered in to current Zoning Bylaws, but that MassDEP is insisting it is not big enough to be a public water supply for the eatery. Said Dembkoski, "They will get there eventually."
And, in another business mystery, Dembkoski said of the possible Bose deal, "The private school is still very much interested, but it is my understanding they're having trouble with funding." At this point, she maintained, "Bose is just looking for somebody to take the property off its hands."