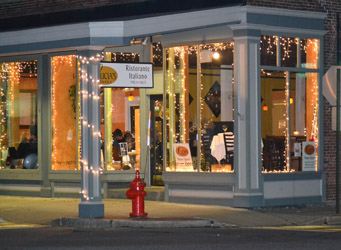 By Ann Needle
The unassuming town of Ayer now hosts the very hip, very North End-ish Lucia's Taverna, something for those looking for an elegant dinner and where husband Jeff and I ended up for a date night. While there are many positives to the venue, the jury remains out on the overall experience.
Yes, Lucia's itself is good news – a place to celebrate, or simply to savor, especially with a special someone. The décor is worthy of a night out in the city, all dark wood and linen. One online restaurant review did whinny a bit about the white "Christmas" lights decorating the outside. Is this the same person who complains the Bible is too long?
The menu is upscale, the food an eclectic mix of regional styles throughout Italy. This is important to note if you patrol the online reviews, given a few commentators have declared this to be traditional, old-world Italian food. Around here, that usually means the Southern Italian served in the North End of the 1970s, smothered in a delicious red sauce, but capable of triggering nausea.  Instead, at Lucia's you can dine on a sophisticated special, a bowl of pasta and red sauce, or get yourself a seafood fix.
I was alerted to this place by a friend who actually called me about it — on my land line, no less. She told of the delicious soup, pasta, and bread Lucia's donated to a fundraiser at The Healing Garden in Harvard. The donation would be enough, of course, but the friend said the food was, indeed, exceptional. For the price, it should be.
Entrees run from $10 to $27, with appetizers and salads coming in at $9 to $16. This gives Lucia's a niche in a town of casual diners.
After marching Jeff into this latest of my reviews, what ensued was not what we expected.
We arrived here good and hungry, already assuming a gem. The bread was certainly scrumptious, with an olive oil dip full of herbs; no need to call out for butter. We chose to split the Arancini with Mozzarella and Parmesan —a good idea, given each of the three nuggets were just this side of baseball-sized. These are delectable balls of rice, rolled with mozzarella and Parmesan and finished with a crispy-fried coating. One of the three nuggets was perfect, with the mozzarella inside melted to form those strings you get when pulling it apart. The other two were … partially frozen. Though we finished the dish (we are Needles, after all), we did inform our server, who was sincerely apologetic. Throughout the meal, she also was efficient, pleasant, and informative, traits that the other servers also appeared to possess.
For the main course, we both ordered from the "Piatti Favoriti" section, figuring the house favorites would give a better read on the food quality. My Fettuccini della Locanda was a hearty portion of fettuccini, rosemary, walnuts, roast red pepper, caramelized balsamic roasted onion, kalamata olives, artichoke hearts, and Parmesan.
The olive oil coating was ample, but not near enough to drown it. The balsamic flavor did not overwhelm, and the vegetables were perfectly cooked. Perfecto!
Jeff's "award-winning", stone-pressed, Statler chicken (Pollo Murattore, $20) was another matter. From the description we expected a lot of flavor, and it was simply bland. One half of the chicken was perfect, the other half dry. We don't know how they pulled that one off. To be fair, the "rustic white pancetta polenta" was fluffy and superb — until now, I never understood polenta's purpose.
Despite the hodgepodge of quality, I must say, we were too full to fit dessert. That's too bad; those could be marvelous treats that would have wound this up on a more positive note. There were cannoli, parfaits, and all else to be expected from upper-scale Italian.
I cannot dismiss a restaurant based on a single meal, especially one that offers service you don't find much of out our way. Also, the reviews have been of the "I-never-give-a-place-five-stars-but-I-will-now" variety — and Lucia's donation to The Healing Garden speaks of a place with heart. Given I am writing this one off to an off evening for the kitchen, let me know what your experiences may be at this place.