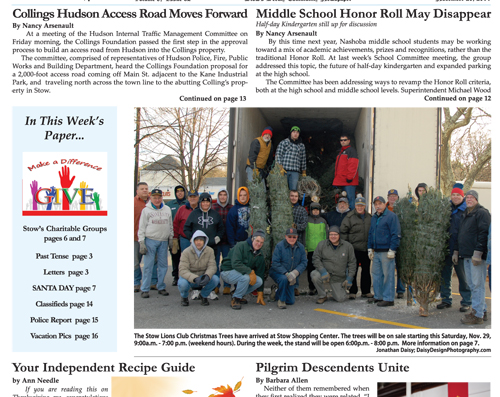 Subscribe for Home Delivery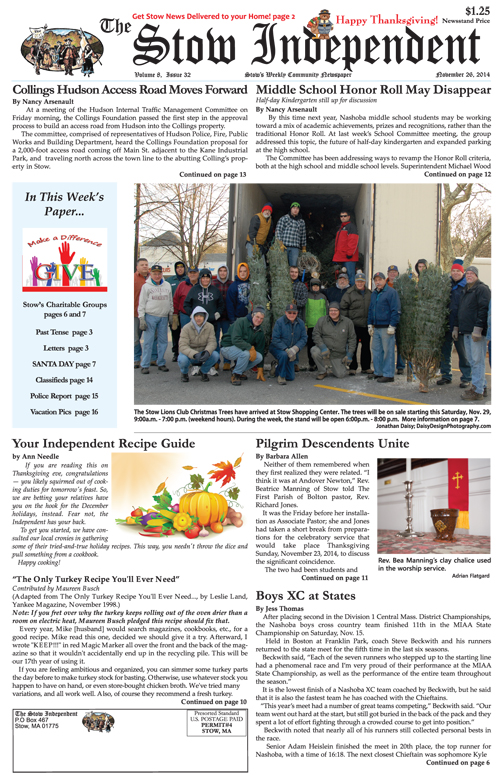 Along with the articles featured on our website, you will find the following in this week's print edition:
Collings Hudson Access Road Moves Forward
At a meeting of the Hudson Internal Traffic Management Committee on Friday morning, the Collings Foundation passed the first step in the approval process to build an access road from Hudson into the Collings property…
Your Independent Recipe Guide

If you are reading this on Thanksgiving eve, congratulations — you likely squirmed out of cooking duties for tomorrow's feast. So, we are betting your relatives have you on the hook for the December holidays, instead. Fear not, the Independent has your back…
Stow Fire Department Santa Day Sunday, December 14

The Stow Fire Department is proud to announce that Santa Claus is coming to Stow on Sunday, Dec. 14.  He will be escorted around the streets of Stow on a fire engine and will stop for those we see waiting.  Because of the number of children who would like to see Santa and his short amount of time in town, please meet Santa at the stops indicated below.  Please call the fire station between 8 am and 5 pm at 978-897-4537 if you have any questions…
Stow's Charitable Organizations
Past Tense
Letters to the Editor

Community Photos and Announcements

Classifieds
Puzzles
And more!