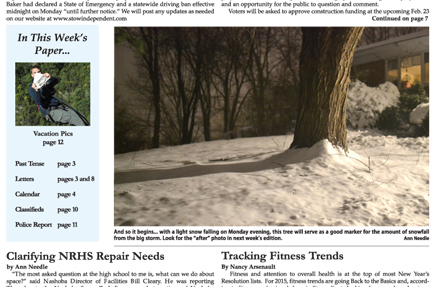 Subscribe for Home Delivery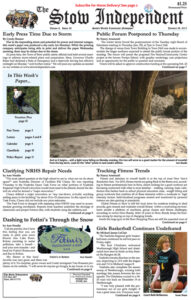 Along with the articles featured on our website, you will find the following in this week's print edition:
Clarifying NRHS Repair Needs
"The most asked question at the high school to me is, what can we do about space?" said Nashoba Director of Facilities Bill Cleary. He was reporting Thursday to the Nashoba Space Task Force on what portions of Nashoba Regional High School's structure would most need to be altered, should the district do what he termed a "major renovation."…
Tracking Fitness Trends

Fitness and attention to overall health is at the top of most New Year's Resolution lists.  For 2015, fitness trends are going Back to the Basics and, according to fitness professionals here in Stow, clients looking for a good workout are becoming enamored with what is most familiar –  walking, running, basic calisthenics that harken back to school physical education class,  weight lifting and group workouts that combine all of these elements within a moderate to  high intensity format. Individualized programs created and monitored by personal trainers are also gaining in popularity…
Girls Basketball Continues Undefeated
The Nashoba Regional girls' basketball team continued its red-hot pace on Friday night. The host Chieftains welcomed Westborough High School and dominated from start to finish as they blasted the Rangers 66-28…
Past Tense
Community Photos and Announcements

Classifieds
Puzzles
And more!