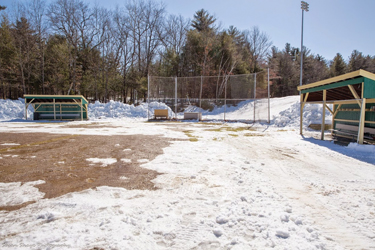 By Michael James LeClair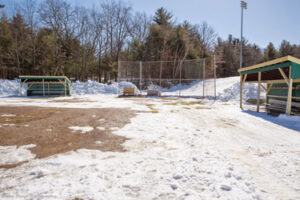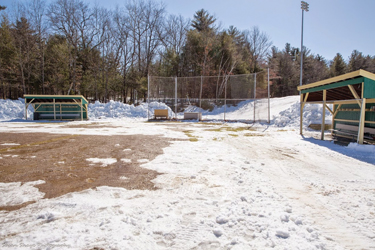 The Nashoba Regional softball team ended the 2014 season with a little bit of a sour taste in its mouth.
The Chieftains steamrolled through the regular season only to watch its chance at a Central Mass. Division 1 title slip away in the postseason.
Last Wednesday afternoon, the Chieftains took to the field for their first scrimmage of the young season when they hit the road and traveled to Lunenburg's Marshall Park. The Chieftains and host Blue Knights got their first taste of some highly anticipated competition.
"I thought today the girls did just fine. It was our first time on an infield this spring. We were missing a couple players but it was a chance to get some work for the younger girls," said Nashoba skipper Steve Kendall following Tuesday's scrimmage. "The girls were a little nervous today, as you could see from the first inning of play, but they settled down after that. It's great to be outside and on a field."
Last year Nashoba entered the postseason as the number one seed in Central Mass. Division 1 with a 19-1 record, but Nashoba fell to Shepherd Hill, 2-0, in a Central Mass. Division 1 semifinal.
Graduation hit the Chieftains hard as Nashoba lost five key players from last year's squad, including pitching ace Emily Sargent. In addition, the team lost two more players from last year's squad, one to a transfer and the other because of personal reasons.
However, Kendall has a trio of hurlers at his disposal this spring in a pair of seniors and a rising, young sophomore.
Seniors Sarah Gaffney and Meghan MacAskill, as well as sophomore Taylor Colvin, will each have ample opportunities to toe the pitching rubber inside the circle this year as the three will see most of the innings for the Chieftains.
"We're going to be just fine, it's going to take us a little while," said Kendall, whose charges are tentatively scheduled to open the season on April 13 at home against Algonquin Regional. "Today was the first time we've had a chance to get on a field. We've been able to use the turf at school a few days but it's not the same as being out here on an actual field."
Nashoba will carry three senior captains this spring in Erin Cressman, Sarah Gaffney and Andrea Labonte. All three are veterans and will look to provide leadership for the younger players.
"Things are going well. We lost a lot from last year's team but this year this group is meshing really well together," said Labonte, who did not play Wednesday's scrimmage after recently suffering a concussion, but still made the trip to Lunenburg with her team. "The chemistry has been really strong and we have plenty of talent in this group."
Labonte, who can play first base and catch, hopes to return to the field as soon as medically cleared to do so.
"We expect to go out and win," said Cressman, who will spend the majority of her time on the left side of the infield at shortstop and third base. "We have some young talented players and a strong veteran group. We have high expectations. We want to go out and play well."
According to Kendall, nothing is set in stone. With several players in competition for playing time, the lineup could change several times before the season opener.
Along with a healthy Labonte, freshmen Hannah Gaffney will also see time at first base, junior Rachel Farley will be at second base and sophomore Gina Hinckley will be at the hot corner at third base.
Behind the plate, you could see anyone of a handful of players. Cressman and Labonte can both protect the plate umpire, while sophomore Sam Maglione is also a strong possibility to get the nod.
Kendall is fortunate in that he has a plethora of talent that can play in the outfield. When asked about the candidates for the three outfield positions Kendall rattled off a list of names that included senior Sarah Gaffney, sophomores Amanda Suleski and Hinckley, freshmen Victoria Tuttle and Hannah Gaffney.