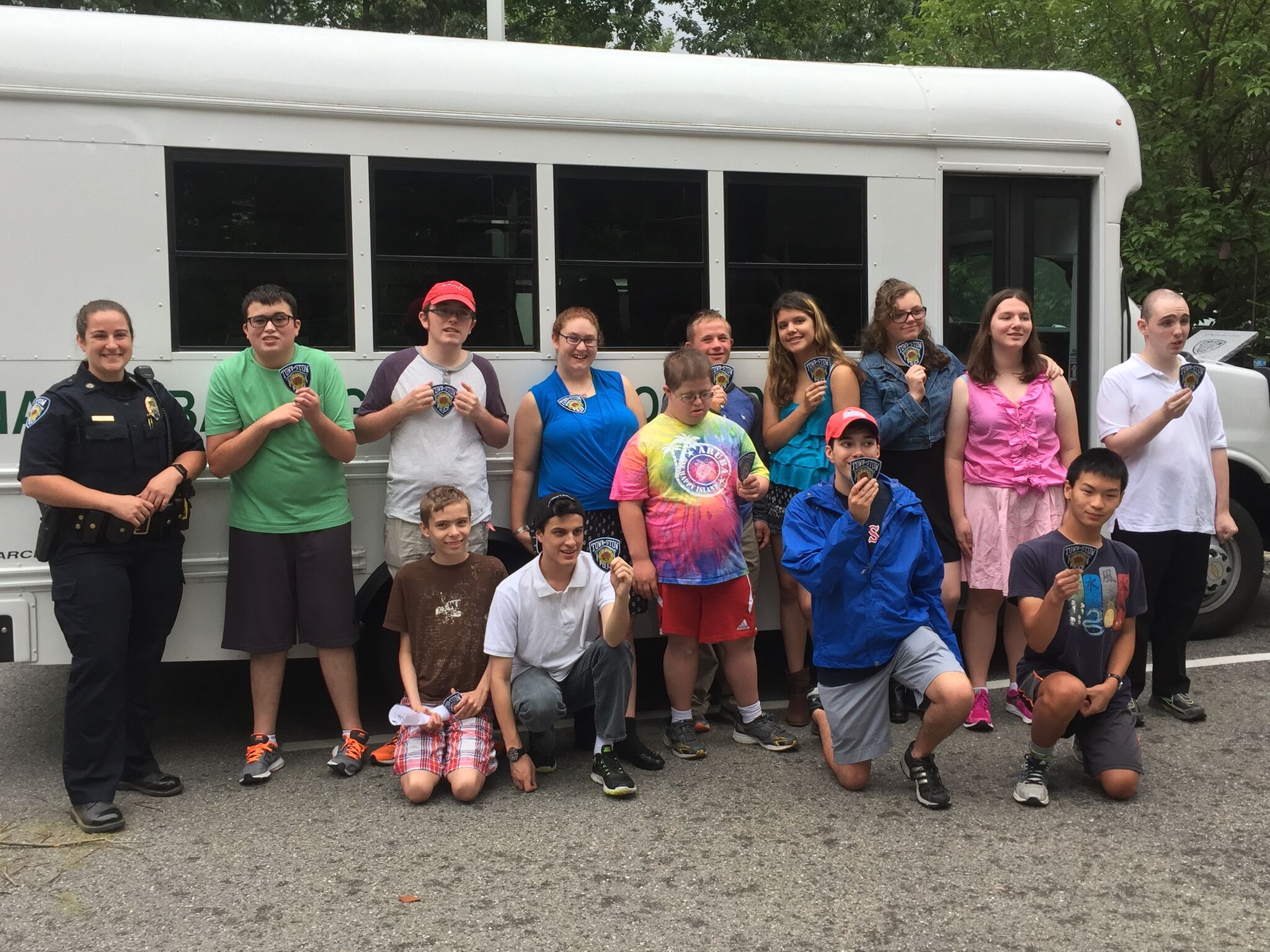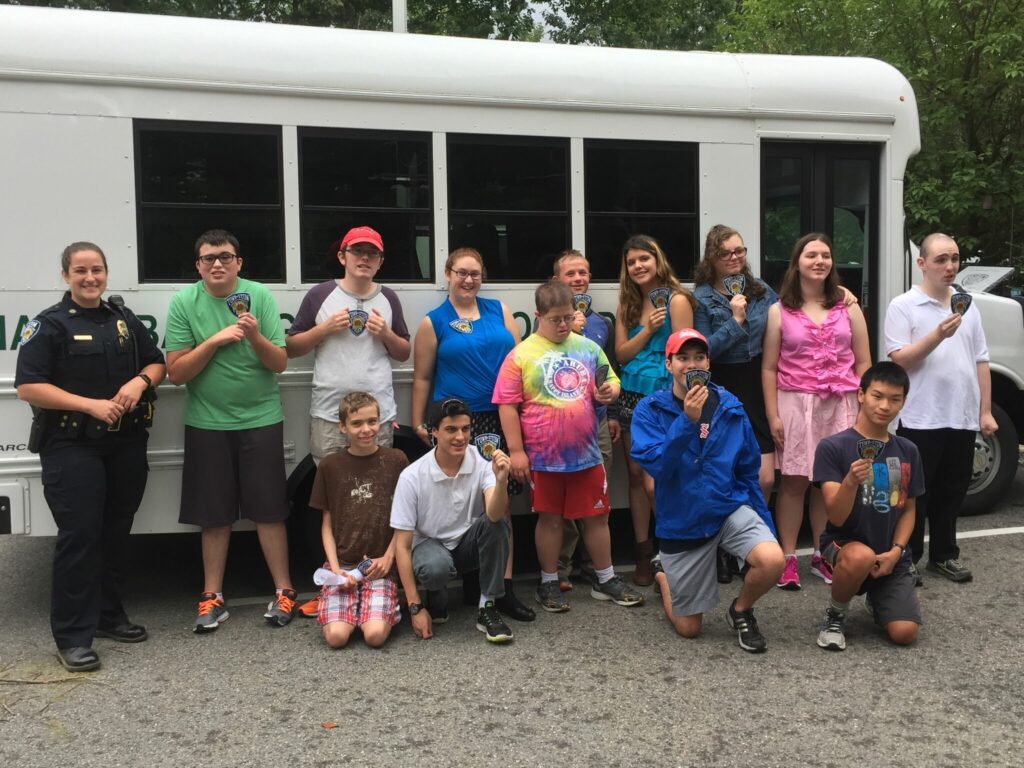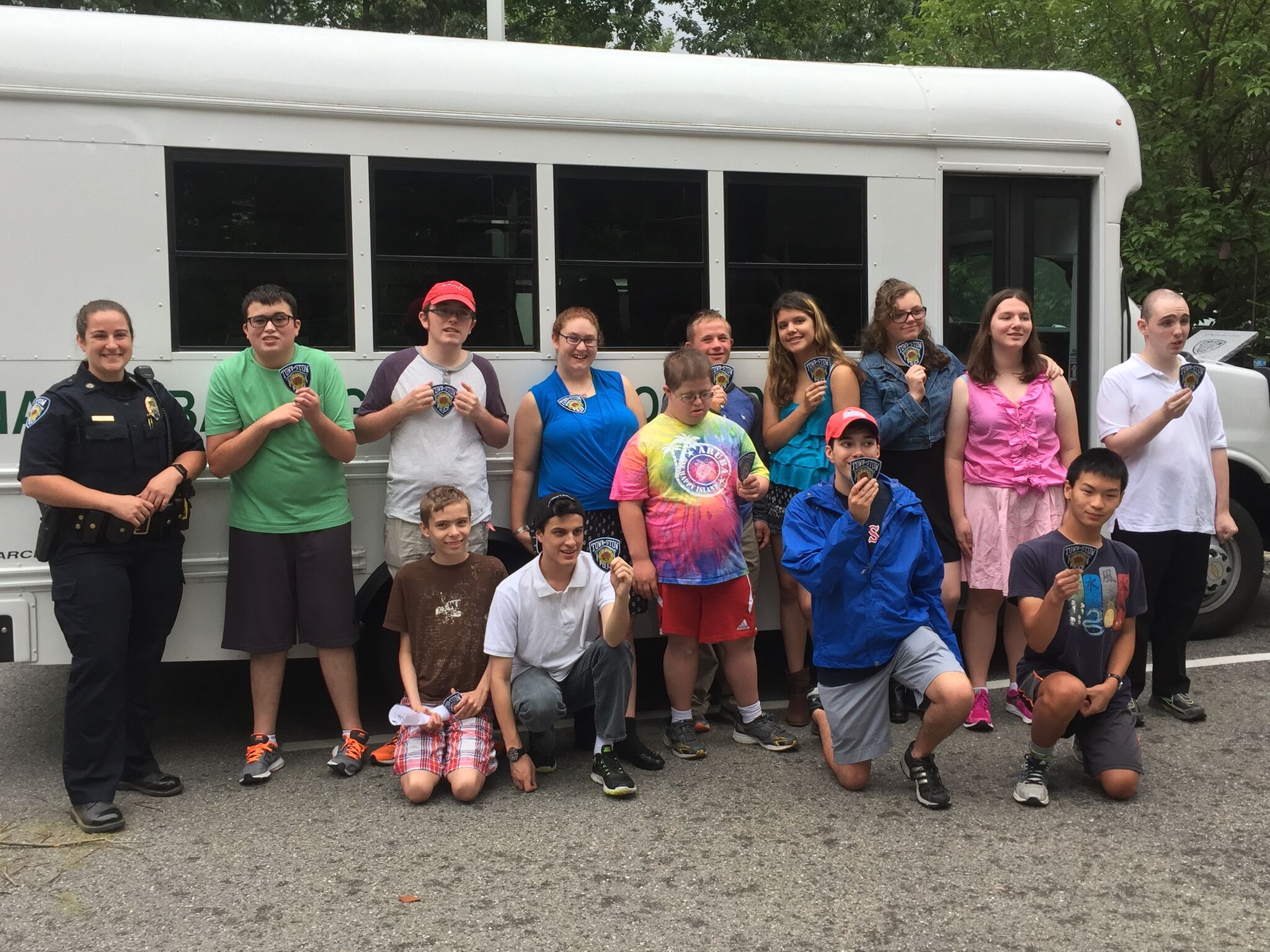 By Ann Needle
Earlier this month, 16 teens from Nashoba's Extended School Year program surprised police officers in Stow, Bolton, and Lancaster with a very enthusiastic and personal "thanks" for their service.
Nashoba Director of Athletics Tania Rich reported that the students spent a day of class time making thank you cards for the police officers throughout the district, along with small bags of candy to accompany each card. On Wednesday, Aug. 10, the two ESY classes and their teachers headed out with Rich to personally deliver the goodies to each station.
"The students have a safety week during ESY where members of the police, fire, and EMS from Lancaster come to the school for a presentation and show and tell with the vehicles," Rich explained. "And then, with everything going on in the nation — we all felt like this would be a good summer project to complete to say thank you to the [police] officers in the district."
ESY Teacher Katie Gianetti said that Stow's Cassie Dolan was in charge of finishing off the approximately 90 cards at home, stamping each with a signature.  Each card contained a brief note of thanks. And Gianetti was quick to point out that Rich came up with the whole idea in researching how to express gratitude to local law enforcement.
The Joy of Giving Back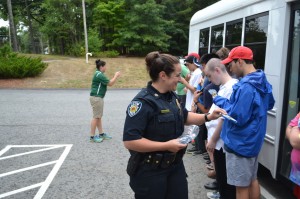 At their first stop at the Stow Police Dept., the students surprised (most of) the officers as they drove up to the station with Rich, Gianetti and fellow teacher Danielle Mutrie, along with Nashoba Regional High School Assistant Principal Brian Cody. They were greeted at the door by Detective Cassandra Ela, who mentioned that she was the designated officer-in-the-know about the visit. (An officer at each of the other two stations was alerted as well.)
Not everyone gets excited about a trip to the police, but this group of Nashoba students was certainly pumped about seeing three police stations in a single morning. Ela conducted a quick tour of the Stow station, with the very-single, box-like jail cell the object of particular interest. "No way!" one student shouted when seeing the small size of the cell. "We don't have a lot of action here," Ela responded.
Watching the jostling and laughter of the students waiting to get a peek at Stow's tightest space, Brian Cody lightly reminded everyone, "Some people who visit it don't find it fun." Cody kept laughing, even after an anonymous voice in the crowd suggested someone toss him in the cell.  "I try to spend as much time with these kids as I can every summer," he said.
In Bolton, the students received a big greeting from Chief Warren Nelson and several officers. The officers seemed to know some of the Bolton students, especially Zachary Murphy, who offered the officers a big "this is awesome!"
While everyone seemed to enjoy the morning, Rich stressed,   "It's all about teaching the kids about giving back to the community." The message was not lost — one note to be given to an officer said, "Thank you for risking your lives to keep us safe."