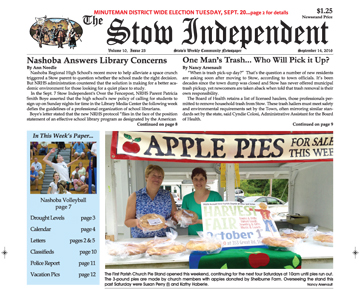 Along with the articles featured on our website, you will find the following in this week's print edition:
One Man's Trash… Who Will Pick it Up?
"When is trash pick-up day?"  That's the question a number of new residents are asking soon after moving to Stow, according to town officials. It's been decades since the town dump was closed and Stow has never offered municipal trash pickup, yet newcomers are taken aback when told that trash removal is their own responsibility…
A Tale of Two Dog Owners
A local of celebrity of sorts, Maverick's fame is not the kind animal lovers would wish for the 2-year-old German Shepard, or any other pet. A recent visit to Maverick's new Stow home with Mark and Tracy Douglas points to a happy future for the once-abused dog…
Powerful Open House at Hudson Light
Hudson Light & Power's circa 1897 power generating station on Cherry Street in Hudson will serve as the centerpiece of a community Open House on Saturday, Oct. 1…
Also in this week's Print Edition…
Past Tense
Community Photos and Announcements

Classifieds
Puzzles
And more!