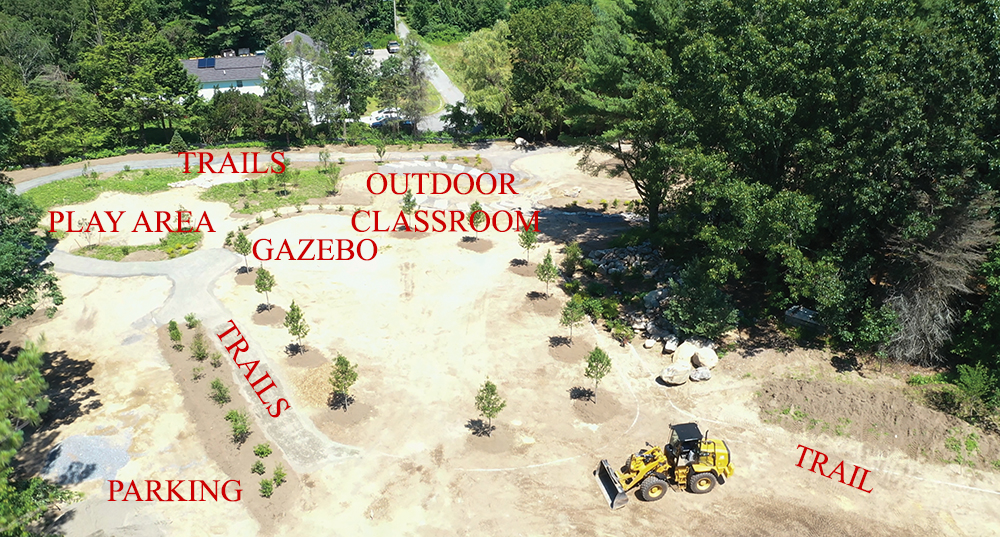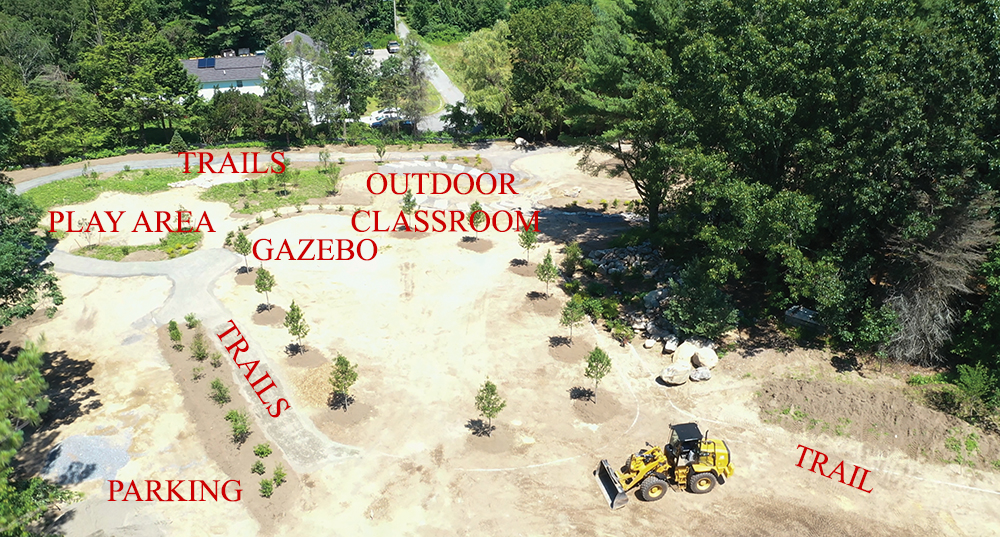 By Ann Needle
Few words shout success in Stow louder than "on time and on budget." And that was the phrase Stow Recreation Director Laura Greenough used to describe the park being installed at 323 Great Rd.
At the July 9 Board of Selectmen's meeting, Greenough joined Conservation Commission Coordinator Kathy Sferra in updating the Selectmen on the park's progress.
Greenough reported construction on the park is about 40 percent complete, with Recreation and Conservation working toward a Fall ribbon-cutting. While the goal is to complete construction by late August, she noted the new park will need time for the grass to take root.
The park will occupy a piece of land on Minister's Pond, tucked back between High Rock and First Parish churches, on land that became available after a former resident's home burnt down. Stow residents approved spending $275,000 from Community Preservation Act funds for the park at the 2017 Annual Town Meeting.
While the $300,000 estimated price of the park has not gone up, Greenough stressed she continues working on plans to raise the remaining $25,000 for items including benches and picnic tables.
Greenough has described the park as filling a niche between Stow's ample conservation land and the activity-oriented Stow Community Park. It should fill a need for a place where seniors can enjoy walking trails close to town and parents can sit on benches and watch their children play.
Given the park will be set back from Great Road, Greenough termed it "a secret treasure. We're going to have signage, and you'll be right in the center of town — but you're not. It's going to be a really nice, passive recreation park. We'll have a little something for everybody."
Best of the Park
At the Selectmen's meeting, Kathy Sferra displayed photos of the park in progress. She noted the fully accessible walking trail going from the parking lot down to Minister's Pond, with a handicap-accessible walkway connecting around the park. Sferra reported there will also be a trail leading to a path going up the park's hill, for those able to negotiate that part of the trail.
Greenough termed the walking trail "the best part of the park." She also mentioned a slide will be built directly into the hillside, and there will be an outdoor classroom of sorts, "almost like stadium seating." That is, the area will offer a grassy area with lawn seating, allowing for picnics and group talks, she explained.
Though park rules are yet to be set, Greenough said they should allow for fishing, but no swimming, skating or snowmobiles.
While the park's cost remains on budget, Greenough told the Selectmen, "We did have to work with the contractors creatively to address some unforeseen things underground." These included removing a septic tank and remains of the house foundation, along with an unexpected well (the site had three wells total). Much of the cost was handled by using materials already at the site, with contractor Jam Landscaping cooperating in helping control costs, she said.
Greenough stressed that residents should stay away from the park until it is completed, given it is an active construction site hosting heavy equipment. But, she noted Stow TV has been using its drone to post regular aerial updates of the park's progress, with the latest look at Stow TV on www.youtube.com.