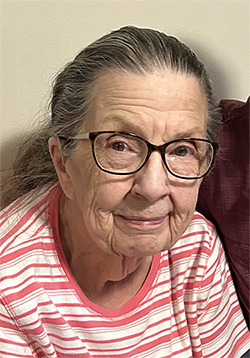 Lorraine M Sandstrom (Bergantino), 87, of Stow, Mass., passed away on June 24, 2023, after a long illness.
Born on April 14, 1936, she was a daughter of the late Anthony Bergantino and Laura (Sbardella) Bergantino.
Lorraine married Donald B. Sandstrom in 1960 and they lived happily in Stow, MA for 62 years until recently moving to Leominster, MA, due to illness. Lorraine was one of the founding members of the Silver Spoon Senior meal site in Stow and actively participated for 22 years. Lorraine loved visiting Salem, MA and going on trips to Cape Cod, Bar Harbor, Maine and Moosehead Lake, ME. Lorraine was an avid reader and puzzle doer, and her family always kept her stocked up on her favorites.
Lorraine is survived by her husband Donald and children: Donald Sandstrom Jr; Laura and her husband, Thomas King; Diana and her husband, Albert Nasiatka; Lee and her husband, William Donaldson; Dana and his wife, Michelle Sandstrom; 8 grandchildren and 10 great-grandsons; and her siblings Barbara Zastrea, Joseph Bergantino, Anthony Bergantino, the late Carmen and John Bergantino and the late Christine Tullo.
In lieu of flowers, memorial donations may be made to the American Heart Association or the American Cancer Society.
Services will be held at a later date at Saint Joseph cemetery in Chelmsford, MA. Arrangements have been entrusted to the care of Blake Chelmsford Funeral Home in Chelmsford, MA. Funeral Directors Paul A. Hardy, Jr. & Jennifer Lebaropoulos Hardy. For online guestbook, visit CHELMSFORDFUNERALHOME.COM and find us on Facebook.