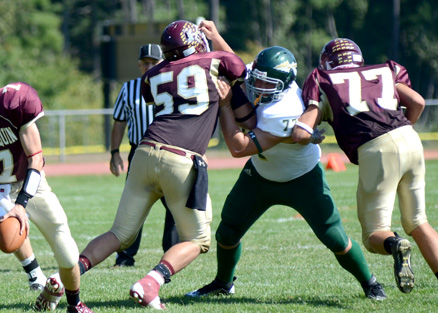 By Ellen Oliver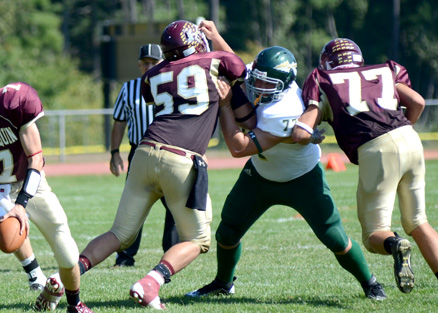 The threat of the EEE virus is affecting youth and high school game schedules after several area towns were considered to be a high risk for the virus. After a Westborough man died of EEE in August and EEE carrying mosquitoes were found in Boylston (August) and Berlin (September), the Massachusetts Department of Health listed Hopkinton, Northborough, Shrewsbury, Southborough, and Upton as areas of concern. As a result, evening activities (anything after 5:30pm) in many of the towns have been rescheduled.
According to Nashoba Athletic Director Tania Rich decisions regarding scheduling are being made on a day-to-day basis and Rich is in contact with her counterparts in those communities with curfews. Aside from the football game, one junior varsity game was rescheduled to begin immediately after school. Rich has provided information on keeping athletes safe to the coaches and guidelines are posted on the school athletic website as well as on the District site.
The rescheduling hasn't affected Nashoba's winning ways, as four Chieftain teams are undefeated and one secured their first win, then added to it. Here's a look at each Nashoba team's recent scores, plus a glimpse of what's happening at Stow's Hale Middle School.

Football (3-0)
The Nashoba football team continued its Central Mass dominance with a Saturday afternoon 42-3 defeat over Algonquin. The game was rescheduled from Friday night to Saturday due to the threat of the EEE virus. The Algonquin school district is comprised of the Towns of Northborough and Southborough, two of the towns listed at risk for EEE.

John Ojuwku got things started with three touchdowns, propelling Nashoba to a 28-0 lead at the half, with help from Brady Schartner's first quarter 20-yard touchdown. Andrew Cross and Matt Sabourin each added fourth quarter touchdowns as the time ran out for the Tomahawks.

Girls Soccer (7-0)
The girls' soccer team is showing why they are climbing the ranks on the ESPNBoston top 20 girls' soccer poll, moving from fifth to fourth.
Nashoba defeated Holy Name 3-0 on September 20 with goals from Sarah Clopeck (two) and Emily Kuefler. Clopeck also got the assist on Kuefler's goal and was assisted on her points by Amber Gustafon and Cori Gillen.

Cross Country – Girls (5-0)
On Saturday, the Nashoba Girls Cross Country team placed fifth at the Amherst Invitational at Hampshire College with 150 points, only 11 points out of second place. The top seven runners for Nashoba were Rylee Gillen, Kara McCormack, Kelsey Horowitz, Grace Dempsey, Natalie Bettez, Peri Matatia and Taylor Brady. Gillen ran 18:44 as a freshman to place fourth overall, just three places behind last years' division two state champion.
The results of the invitational don't affect the undefeated record of the Chieftains in regular season and the girls remain perfect after a dual defeat of both Narragansett and Hudson on September 18. Nashoba defeated Narragansett 25 – 30 and Hudson 15 – 50. The top finishers for Nashoba were Gillen, McCormack, Bettez, Dempsey and Horowitz.

Cross Country – Boys (5-0)
The boys' story rings very similar to the girls, sometimes even with the same scores. Just like their female team mates, Nashoba defeated Hudson 15-50 and crushed Narragansett 17-42. The top finishers for Nashoba were Forrest Hangen, Mark Puleo, Jacob Hangen, Zack Honig and Adam Heislein.

Volleyball (2-5)
The girls' volley team snapped their losing streak and notched two wins this week. The girls defeated Fitchburg 3-2 in a difficult five set series. Nashoba won the first two sets 25-18 and  25-18, but Fitchburg took the next two 25-12 and 25-21. In the fifth set the Chieftains rallied back from a 5-1 Fitchburg lead to take the final set 15-11.

The Chieftains followed their first win with a 3-0 loss to Wachusett, but bounced back to secure a 3-0 victory over Ayer Dunstable in front of a home crowd. Nashoba kept the lead in all three sets winning 25-18, 25-12, and 25-17.  Clarissa Tucker had four aces and two kills. The setting of captain Evelyn Cubero combined with the hitting of senior middle Kelsey Keenan was a force at the net, accounting for 13 attacks with eight kills.  Rita Peirce was key at the service line with a new personal best of 22 service points and nine aces. Sam O'Connor and Morgan Percy played a tight back row defense allowing only five kills out of 22 attacks.

Boys Soccer (4-1-1)
The Chieftains defeated nearby rival Bromfield 1-0 on Friday. The game's sole goal came unassisted from Kevin Dunnells during the first seven minutes of the game. Goalie Matt Clopeck made seven saves to preserve the shutout as the Chieftains visited Bromfield in neighboring Harvard.
Earlier in the week, Nashoba defeated Quabbin 4-1 with goals from Dunnells (unassisted), Dan Romhanyi (assists from Dunnells and Michael Statkus), Ian Coull (from Bret Perisho) and Bret Perisho (from Ian Coull).

Golf (2-3-1)
The boys' golf team continues to have success on the links with a 22.5-31.5 win over Westboro on September 19 at Twin Springs in Bolton. The win over Westborough was the second for the golfing Chieftains, who also defeated Groton Dunstable.

Field Hockey (6-1)
The Chieftains are sticking to their winning ways with a great week of victories. After defeating Quabbin 1-0 to start the week, Nashoba handed Hudson a 2-0 loss on Friday. Emma Caviness scored both goals, with assists by Katie Lombardozzi and Sarah Gaffney. This week started with a 1-0 victory over Westboro.

Hale Middle School Cross Country – Boys and Girls
Hale ran a 1.56 mile course against Oak Middle School on September 20 in Shrewsbury. The boys were defeated by Oak 16-44, but the girls were victories with a 15-47 triumph. The boys had four finishers in the top ten (5-Cooper Caviness 9:34; 8-Ryan Gillooly 9:50; 9-Tyler Seatter 9:51; 10-Andrew Snoddy 9:53) and the girls took eight of the top ten spots (1-Sarah Gillooly 9:32; 2-Afton Burrell 9:52; 3-Lily Hammill 10:03; 4-Sophia Greszczuk 10:22; 5-Katie Piccioli 10:24; 7-Jacquelyn Harnett 10:50; 9-Ella Lemeiux 11:00; 10-Catherine Sabourin 11:00).