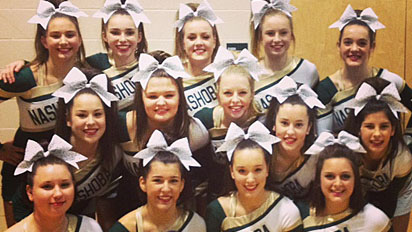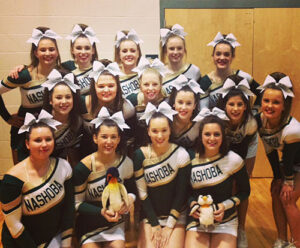 By Ellen Oliver
Before the Nashoba cheerleading squad takes the floor in competitive meet, they place their hands in the middle of the huddle and say in unison: "I Believe." That faith in each other brought the team back to the Division 2 state cheerleading competition at Wachusett High School on Sunday, November 24.
Coming off a third place finish at regionals and a second place spot in leagues, the Nashoba squad's routine earned a score of 152 points and an 11th place finish in the state meet.
According to Head Coach Tanya Beaudry, the divisions for cheerleading are realigned every two years based on school enrollment numbers. "This year, four teams in Division 2 were in Division 1 last year," she said. "For us to make Division 2 states this year was incredible."
Another impressive feat was the way the girls improved in the week between the competitions. Faced with the increased competition and tougher judging, the Nashoba cheerleaders pulled off a score five points higher than they earned at regionals.
To illustrate the commitment of her team, Beaudry explained that after regionals when the girls scored a 5/5.5 in Motion/Dance, they made a plan to improve. At states, the girls pulled off an 8/8.5 in the same category.
"This is the first year we didn't have to retool our routine because of injuries," said Beaudry. As a self-proclaimed "safety freak," Beaudry said her philosophy is founded in "perfection before progression." Other coaches might allow a team to try a new stunt or push the aggressiveness of their routine, but Beaudry wants her girls to nail the basics and trust in each other.
"If you're thrown in the air, you need to have trust. They've really bonded; there's trust there," said Beaudry. "They competed as a team, not fifteen individuals."
The varsity squad went to states two years ago, but had a less successful season last year, not qualifying for regionals. "Our goal is always to aim high, to aim for nationals," said Beaudry. "We made two steps further than last year."
Beaudry said a big difference in the team this year is the commitment of her captains: seniors Amanda Lombardo, Kat Angevine and Jordan Uiterwyk.
"They push themselves and set the model for the other girls," said Beaudry, adding that  if the captains aren't happy with part of the routine, they'll run their own practices to perfect the move or stunt. A fourth senior, Jackie Kalinowski, was a team alternative last year and found a leadership role as team "mom," according to Beaudry.
Two juniors, Kylie Schenck and Danielle Kennon, have worked with Beaudry since they were freshman and have become a solid pair of bases for stunting.
"Kylie and Danielle have been bases since freshman year; they really click. I swear they could lift someone 300 pounds because of their technique," said the coach.
Two other juniors, Emma Nelson and Maddi Dubeall, serve important roles on the team, as disciplinarian and comic relief. "Emma has strong leadership skills. She gets everyone back on track when they're talking," said Beaudry. "Maddi just brings joy to life. She has a laugh that is so contagious."
The four sophomores – Emilia Bernasconi, Hayley Ondrus, Annie Meighan and JoJo Enzmann – all bring special skills to round out the team, but the coach used the same term, "hard working", to describe each. Beaudry said she's seen Bernasconi and Ondrus improve their roles as flyers, while Meighan "busted her butt" to nail a backhand spring. Enzmann's background as a gymnast shows and Beaudry called her "the most beautiful tumbler" who was able to transfer her skills to stunting.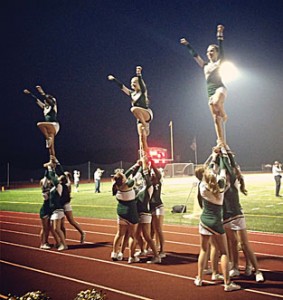 Finally, Coach Beaudry said the three freshman – Abby MacKillop, Ashley Zerega and Meghan Bussiere – also have a good work ethic, ensuring the squad will do well in future competitions.
Beaudry explained that although people are most familiar with seeing the cheerleaders on Friday nights on the sidelines of football games, there's far more the girls work on during the week.
"The cheers are learned at the summer practices. The rest of the time, we focus on our competitive routine and use the football games as mini-practices. Any stunting we do, we're actually practicing stunts we do in our routine," said the coach. "We've been strong in tumbling, traditionally not as strong in stunting. This year we've received our strongest scores in stunting."
Beaudry also explained that football games serve as a chance to squeeze in more practice, but the girls have usually put in a two hour official practice before they get on the bus to travel to a football game. This year, all that work was rewarded by improvements in their scores and the progression to states.
"As a coach, you can't make a team want it, but they did," she said. "They worked very hard."