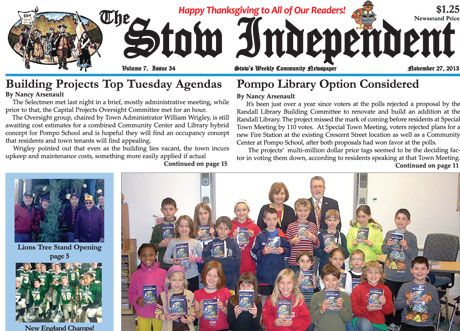 Building Projects Top Tuesday Agendas
The Selectmen met last night in a brief, mostly administrative meeting, while prior to that, the Capital Projects Oversight Committee met for an hour.  The Oversight group, chaired by Town Administrator William Wrigley, is still awaiting cost estimates for a combined Community Center and Library hybrid concept for Pompo School and is hopeful they will find an occupancy concept that residents and town tenants will find appealing…
Pompo Library Option Considered
It's been just over a year since voters at the polls rejected a proposal by the Randall Library Building Committee to renovate and build an addition at the Randall Library. The project missed the mark of coming before residents at Special Town Meeting by 110 votes.  At Special Town Meeting, voters rejected plans for a new Fire Station at the existing Crescent Street location as well as a Community Center at Pompo School, after both proposals had won favor at the polls….
Geothermal Offers Green Savings

The Stow Solar Challenge has residents thinking about how to make their own utilities "greener". While tapping into solar is one option, there are additional options available as well. One of these, geothermal heating and cooling, was the spotlight of a recent seminar highlighting the system's potential benefits…
"Dream Team" Captures NE Crown
How sweet it is.  After knocking on the door each of the last two years, on Sunday night the Nashoba 8th Grade Football Chiefs knocked it down, routing the Bridgeport (CT) Chargers, 35 – 12, to claim the New England Regional Championship in Meriden, CT.New Football Playoff System a Bad Call
New Football Playoff System a Bad Call
Sportswriter Jordana Bieze Foster, who has been covering the Nashoba Regional Varsity football team for 6 years, weighs in with her opinion on the new playoff system instituted by the MIAA this fall.
Past Tense: Zander Brothers

Community Photos and Announcements

Classifieds
Puzzles
And more!