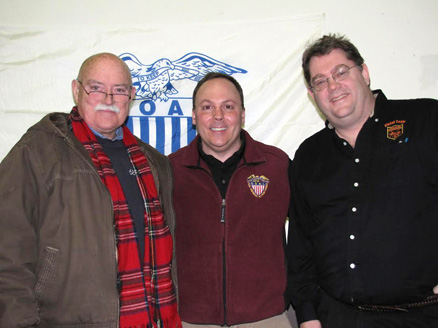 February 5, 2014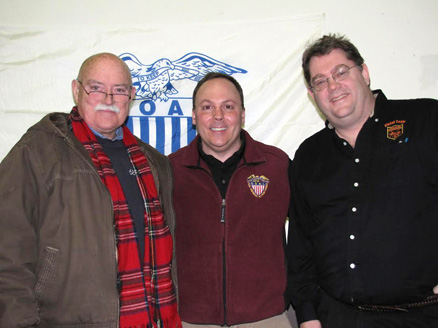 By Ellen Oliver
The details and intricacies of Massachusetts gun laws, including the possession, transportation and storage of guns in the Commonwealth, were explained on Thursday night at the South Hangar of Minute Man Air Field in Stow.
The information was presented by Jon Green, Director of Education and Training of the Gun Owners' Action League (GOAL) and sponsored by The Assabet Gun Safety Coalition.
"Even for the best people in the world, the law abiding citizen trying to do everything they can do to be compliant, it's really complicated and hard to keep up with what's required of you," said Stow resident Craig Schomp of the Assabet Gun Safety Coalition.
Seventy-five people filled the hangar to listen to Green's three-hour presentation with many questions peppered throughout the talk.  The audience included gun owners with varied interests, from hunting and sport shooting to re-enactors and collectors.
"There's lot of information out there and a lot of misinformation out there. I hope to clarify some of the questions," said Green in his opening remarks. "Massachusetts is very unique compared to other states with applying gun laws and civil liberties."
In addition to presenting basic gun laws and common areas where gun owners can be caught in non-compliance, Green discussed the laws regarding "assault weapons" as defined by the Commonwealth, the approved roster and the buying, selling and transport of guns. Green discussed when to use a licensed gun dealer and warned that a special license is needed to sell the ammunition. He explained that a permit from the Fire Department is required to store the large amounts of ammunition often needed by competitive shooters and instructors.
Of particular frustration to Green and many members of the audience was the delay time in receiving a Firearm Identification (FID) or a License to Carry (LTC), and the lack of consistency with what is required during the application process. Green presented a long list of additional items his members have been asked to supply when applying for an LTC or FID, including utility bills, bank receipts and a doctor's note.
"The statute does not require these items," he said. "Check the date of your card and start the renewal process six months out."
For more information on the gun laws, Green pointed to the GOAL website,  www.goal.org, where the organization has posted the laws.
"We are a member organization, but we are always happy to talk to non-members," said Green.
After Green concluded his remarks, Schomp wrapped up the meeting acknowledging the complicated information presented.
"I just listened to the presentation and I'm still going to come away with questions," he said. "I want people to understand how complicated it is for gun owners to be compliant in this state."
Schomp explained that the Assabet Gun Safety Coalition (www.tagsc.org) was started after local gun owners sought a way to educate gun owners and non-owners about the issues.
"Gun issues have come up recently and lot of new proposals along with it," he said. "People try really hard to keep up to up-to-date with what is required of them. At the same time, our constitution guarantees basic rights, but now we're seeing proposals that are going beyond the second amendment to the fourth amendment. We decided we needed to educate people about what kinds of issues we are facing and, in a non-political way, lay out those frustrations and issues, and start having educational nights. We hope a meeting like this can raise awareness about what's being faced."
The meeting was also recorded by Stow TV for future broadcast. Stow TV listings can be found in The Stow Independent and at www.stowtv.org