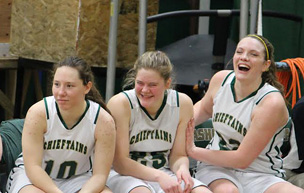 February 12, 2014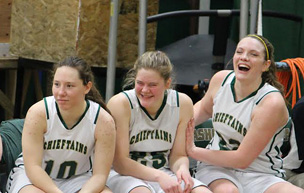 By Ellen Oliver
There isn't a literal target stitched on the backs of the jerseys, but every player on the Nashoba girls' basketball team, who were the 2013 district champs and state finalist,  knows it's there.
"We know teams are going to give their best when they play us. They've been working hard all year to prepare to play us," said junior Nicole Boucher.
With an 18-0 record, the pressure is mounting to shoot through districts and regain a chance at a state title, plus keep the undefeated streak going as long as possible. According to junior Nikkiah Snoddy, they are right where they want to be.
"We like the pressure. We like being undefeated," said Snoddy. "But before each game, Coach Mac reminds us to go one game at a time."
"Our goal is definitely the title," said Boucher. "We don't talk about it, but there are definitely games where, after, we think about it. We'll say we have to play better or harder if we want to do well in districts."
Although there have been close games, the talented and determined Chieftains have had seven victories where they netted 30 points over their opponent. Coach Beth McNamara counsels her team to keep their focus in close games or during ones with big leads.
"It's obvious people prepare for us and want to play their best games against us and it's good for us to prepare for other team's best games," the coach  explained. "There have been games when we've scored a lot and that means we've been taking shots and moving the ball. It gets us ready for the playoffs if we play hard and play well."
The girls have noticed that, thanks to the increased scouting on them this year, one of their players will call out a play and the other team will yell it back and respond. "Sometimes it seems the other team knows our plays better than we do," joked Boucher.
Another challenge for the Chieftains, and their competitors, has been snow. Thanks to school cancellations, games were rescheduled, so there are times when the girls play three games in a week or have games back to back. The schedule changes have meant a different cadence to the practices.
"When we practice for a game and have a game the next day, I may go easy on the sprints," admitted McNamara, but added that her players still ratchet up the intensity, even during practice.
"They all have a competitive nature; they even practice competitively. They compete during the drills, some get really competitive," she laughed.  "They share the same nature and the same goals."
McNamara said the intensity unites the starters and the bench players, with everyone giving 100% when they get a chance.
"When kids come off the bench for us when we are struggling, and do their jobs, it's huge. Nicole came in during the St. Bernard's game and gave us ten points when we needed it," said the coach. Those ten points made the difference in the Chieftains 49-41 victory over St. Bs.
While the girls are all laser focused when on the court, there is a sentimental side to their quest for the state title. Last year, the young squad had
no seniors, but this year four upperclassmen will be graduating. Cecilia Burke, Emmalie Keenan, Emma Duggan and Chandler Coggins, who was out with an injury last year, are the senior leadership team, providing experience, points and grit. Many of the girls have shared a roster since they were ten years old, so the thought of not hoisting a state trophy together is added motivation.
"We've been playing together for so long," explained Snoddy. "We are all determined to get a state title, but the seniors are the most determined because it's their last chance. We look up to our seniors and want to play hard for them."
McNamara is proud of her talented squad "We're a very balanced team," she said. "It's good for us so far, but in the playoffs we will meet other teams like us. We need to keep playing well and playing hard."