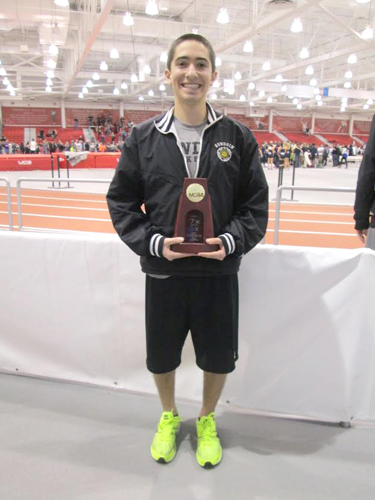 By Rob Kean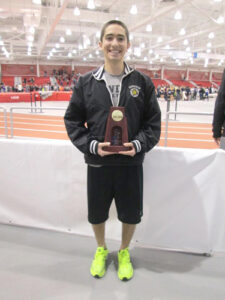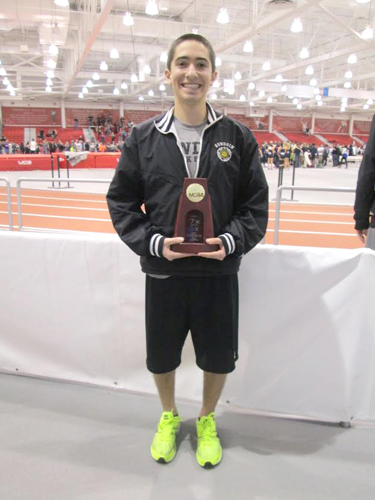 Heading into the NCAA Division III Indoor Track & Field Championships, Stow native and Bowdoin College senior Coby Horowitz's resume of collegiate distance running honors already required a certain suspension of disbelief.  Three-time All-America in cross-country.  Twice an All-America in the 1500 meters.    All-America in the distance medley relay, the 5000 meters, and the mile.  Runner of  three of the five fastest mile times in Division III history, and newly-minted record holder for the fastest D-III mile ever run.
Now he can add the most impressive title of all – National Champion.
On March 15, before a packed and rollicking house at the University of Nebraska, Horowitz took the mile crown by force, leading from wire to wire and finishing in 4:08.40.
"I felt good going in," said Horowitz afterward.  "I knew if I could get out to a lead and keep it from becoming a kicker's race, I would have a shot."
It's a lesson he learned at these same nationals last year, in the mile finals, when a subpar start left him needing to come from behind.  He ran out of track, though, and was out-kicked down the stretch, finishing third.
At that moment, he embarked on a mission:  "I basically spent the past year trying to become the fastest out of the start I could possibly be."
Two weeks before nationals, Horowitz got a chance to measure his progress at the Open New England Championships at Boston University, a meet open to NCAA runners from all three divisions, and therefore casting those from Division I as heavy favorites.  On this day, however, all of them finished behind Horowitz, who won in a blistering 4:00.41, a literal heartbeat away from breaking the magical 4-minute barrier once thought to be impossible to break and live to tell about it.  As it was, Horowitz's time was the fastest time ever run by a Division III miler, a feat he humbly tried to downplay.
"BU's track is known for really fast times," he humbly said.
Still, he took from the race a quiet confidence, and brought it with him to Nebraska, where he tuned up with a solid qualifying heat the night before the one day he'd been training for all year.  And when he toed the starting line for the final, that year of preparation was evident in his comportment, the mind of a Bowdoin student atop the body of a thoroughbred.  And at the sound of the gun, he exploded from the gate.
His fastest start possible achieved, he immediately began putting distance between himself and the other nine finalists.  By the end of the first lap, he'd opened up a sizable lead, and by the end of the second he was running the best kind of alone.  But what the race lacked in drama it made up for in dominance, the spectacle of an athlete turning a competition among many into his or her singular moment.  And as Horowitz raced down the home stretch, he allowed himself a brief glance back at those beaten runners only then rounding the final turn, a scene reminiscent of Secretariat's jockey, Ron Turcotte, famously turning to look back in near wonder at the size of their Belmont Stakes lead.
For Horowitz, his wonder over those final hundred meters was the same.  "Once I realized I was going to win," he recalls, "I forgot about time, and just concentrated on enjoying the moment.  I was going to be a national champion."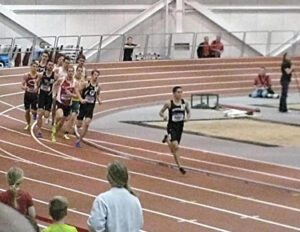 Seconds later, he was.
Already, of course, Horowitz is focused on new goals and next moments.  Starting soon is the college outdoor track season, a chance at capturing an NCAA crown in the 1500 or 5000 meters, or maybe both.  He's also got his sights set on the prestigious Penn relays, where he'll take one more shot at breaking the 4-minute mark in the mile.  Most importantly, in May the Sociology major will graduate with a degree from Bowdoin, and a life full of sky-limits ahead of him, though first he plans on probing the ocean depths as a lobster fisherman for a few months after graduation.
But wherever he goes, and whatever he does, Coby Horowitz will take with him those four minutes before a packed and rollicking house in Nebraska.  And the day he earned the title of National Champion.