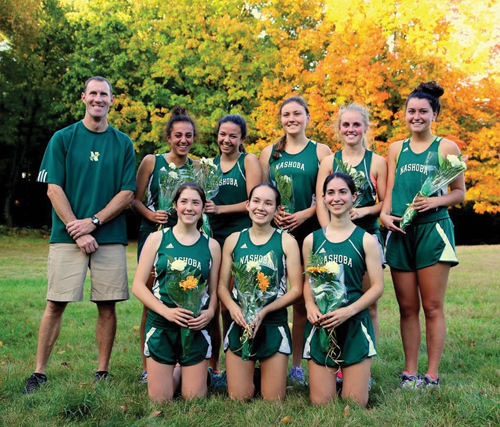 By Michael James LeClair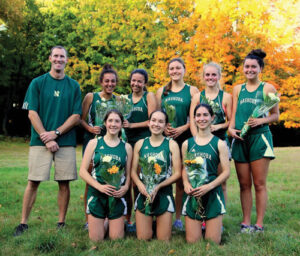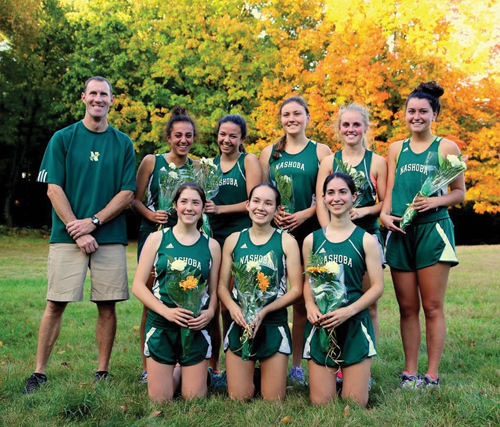 The Nashoba Regional boys' and girls' cross country teams wrapped up the home portion of the season schedule in grand fashion.
Both Chieftain squads ran hard and pulled out victories against visiting Quabbin Regional on Tuesday afternoon at Bower Springs Conservation Land.
The boys were led by Adam Heislein (16:23), Kyle Cloutier (16:35), John Atkinson (16:53), Ryan Gillooly (17:01) and Jacob Hangen (17:02) as the Chieftains swept the first five spots on the 3.08-mile course as the hosts had the first eight finishers to top the Panthers by a score of 15-50.
The win upped Nashoba's season record to 5-1 overall and 5-1 in Mid-Wach B entering the Wachusett Regional Invitational this past Saturday in Holden.
"This team is very good. We've had teams go to the states in five of the last six years and I think this team could beat any of those teams. This team is just phenomenal," said Nashoba head coach Steve Beckwith following the win. "I think things have gone really well for us this year. We've only dropped one meet and that was by a single point to Westborough. I don't think the boys are going to let that happen again. It gave them a great incentive. They've been running harder and faster ever since."
The girls race was a little closer as Quabbin's Steph Halfrey finished first in 19:48 but Nashoba's Bella Susi took second place in 20:57 to help key a narrow 27-28 victory for the Chieftains.
With the win the Nashoba girls, just like the boys squad, improved to 5-1 overall and 5-1 in Mid-Wach B.
"I felt a little off today, I think I ate too close to when I ran," said a laughing Susi after Tuesday's race. "It was OK though. I really enjoy running on this course. I like it because of the woods setting. I've had a lot of strong performances and memories on this, our home course. One of the things that will stick with me is the great times I've had running with this year's seniors on the team. They're a lot of fun and I'll miss them."
Nashoba's Grace Dempsey placed fourth in 21:35, and teammates Ashley Masse, Natalie Bettez and Michaela Bettez finished sixth, seventh and eighth respectively for the winners.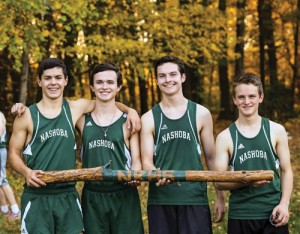 "I think things have really been going well. We knew we'd have a tough meet today against Quabbin, they're a stronger team," said Nashoba girl's head coach Dan Glover. "We're in a tough spot right now because my top two runners are out with injuries and will probably be out for the remainder of the season. Overall though, things have been pretty good for us this season. We always have hopes of going to states. I like this team. We have some talented girls with great attitudes so they're fun be work with."
The girls' team will return to action this Saturday in the league championship meet at Ghiloni Park in Marlborough before the District Championship Meet on November 8 at the Gardner Municipal Golf Course.
On Saturday the Nashoba boys' team repeated as champion after capturing the crown in 2013. The Chieftains cruised by the competition, finishing with 20 points, 46 points better than second-place Westborough's 66 points. Hudson placed third with 92 points, followed by Quabbin Regional (94) and Oakmont Regional (125).
Heislein took home first place in Class B with a time of 16:48 and the Chieftains placed three runners in the top four spots.
Sophomore Kyle Cloutier was second with a time of 17:00 while senior Jacob Hangen placed fourth with a time of 17:21 and sophomore Ryan Gillooly finished sixth, clocking in at 17:36. Senior John Atkinson (17:38) was seventh for Nashoba.