By Jess Thomas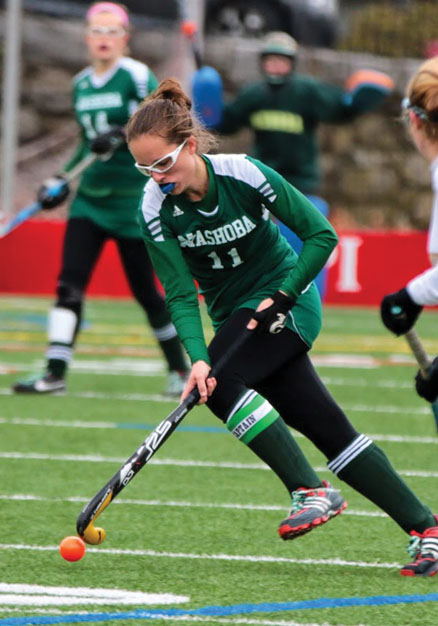 The Nashoba Regional High School field hockey team lost a heartbreaking state championship game, 1-0, to Acton-Boxborough on Sunday at WPI.
It was the first time the team had been to the state final since 1976 when they lost 2-1 to Frontier.
The Colonials (23-0-1) won their fourth state title in the last seven years with aggressive offense and staunch defense. They finished the season undefeated.
The Chieftains will settle for second place in the Division 1 state finals, but with a 20-2-1 record, the team should hold their collective heads high in a season they dedicated to teammate Michelle Farnsworth, who missed the season due to her battle against cancer.
"I think there are so many good things that these kids are going to remember from this season," Nashoba head coach Jaime Mariani said. "I'm so proud of them for making it this far. What a great experience for them and our future as a program.
"They shouldn't hang their heads for their effort that they put in at all today."
The team had a thrilling season with highlights that include the district championship, an 11-game winning streak, 20 wins total, an appearance on WCVB's "High Five" segment, and love and support for Farnsworth.
In the state final, Nashoba felt the loss of junior Tess Anderson, who broke her collarbone during last week's state semifinal against Longmeadow (a 3-2 Nashoba victory).
"That was a real bummer," Mariani said. "Granted she was here with us today, but she's been a key part of our offense throughout the season… That was a big loss for us as well, but at least she gets to play next year."
The only goal scored on Sunday was with 8:05 left in the first half, when the Colonials' slapped a reverse shot past Nashoba sophomore goalkeeper Katie Crowley.
Crowley was up to the task in this one, making eight saves, giving her squad the opportunity to tie the game up multiple times.
Acton-Boxborough had multiple opportunities in the first three minutes of the game, with three corners and a few shots on goal. Crowley cleared every shot that came her way.
"I think Katie Crowley stepped it up big time," Mariani said. "Knowing that Katie was back there making some stops made it feel like they were in the game.
"She played her heart out. It's a big thing coming into a game like this, being a first-year goalie on the varsity team, but she stepped it up today and I'm really proud of her," Mariani added.
Nashoba had few chances on offense, as the Colonials kept the ball on the Chieftain side of the field for the majority of the first half.
The best chance the Chieftains had to score was with four minutes left in the half. The team got about three shots off near the goal, but the Colonials swatted away each attempt.
The second half of play was more back and forth, as both teams strayed away from ball domination.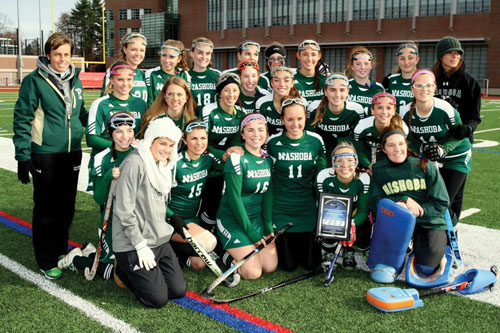 Nashoba had a few last-ditch opportunities in the final couple ticks of the contest, but could not find the back of the net.
Then again, no team could find the back of the net against the Colonials, as they gave up zero goals in the playoffs.
Even though Nashoba trailed in the first half, Mariani did not sense any concern from her team.
"I thought that, of course, it's tough when you get down 1-0, but we battled back throughout the season many times, so it wasn't like they were really worried about it," Mariani said. "They didn't get nervous."
Nashoba had six seniors on their squad this season: Emma Caviness, Olivia Hurd, Sarah Gaffney, Clara Greszczuk, Karleigh Elkins and Meghan Thorogood.
Mariani said, "They're a phenomenal group. Olivia and Emma have been with varsity for four seasons. All six of them are great leaders and I think it sets a great example for our younger classmen to know what it takes to lead a team.
"I'm really sad to lose those girls, all six of them."
It's always tough to lose in the finals, but Nashoba has had a fulfilling and hard fought season.
"Obviously they're sad to see the season end," Mariani said. "But you couldn't have played any more games."