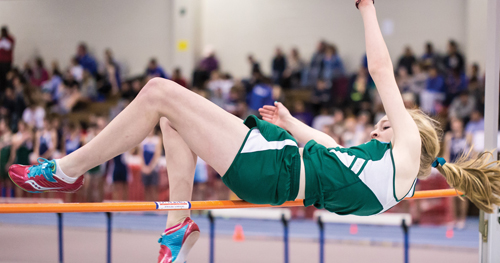 By Michael James LeClair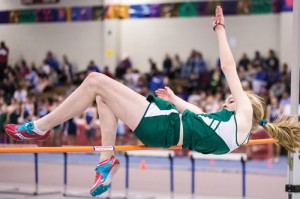 The Nashoba Regional boys' and girls' indoor track and field teams made the trip to the Wachusett Regional Athletic Field House Thursday evening with heavy hearts.
A couple days removed from the passing of Nashoba Regional sophomore Michelle Farnsworth on Tuesday after a long battle with cancer, the Chieftain community remained in mourning.
With ribbons on their uniforms to show remembrance, Nashoba locked horns with Hudson in a Mid-Wach Dual Meet.
Nashoba boys' head coach Steve Beckwith struggled to find the words to describe the feeling around the team on Thursday night.
"A lot of them came out and tried to focus on their races. They were wearing the ribbons," said Beckwith after a long pause. "They are a resilient group but I can't help but think, as a coach and someone who is at the school a lot, that they're not hurting. It's a real shock. If anything, this [the meet] is a 3-4 hour distraction."
Despite a gutsy effort from the Chieftains, the two teams came home with a split as the boys dropped a hard fought 47-44 decision, while the girls cruised to a 55-36 victory.
"It's was a tough way for us to lose, but it was fun. The guys ran hard and ran as fast as they could and didn't leave anything on the track," said Beckwith. "We lost by about a half a second on one of our races and that was the difference in the meet, but they're great kids and they give everything they have and that's all you can ask for."
Opening on the boys' side of things, junior Wyatt Boelens took home first place in the shot put for the Chieftains with a distance of 42'-08-50." Senior Adam Heislein was busy for Nashoba as he finished first in the One Mile Run with a time of 4:51.9 and third in the 1,000 Meter Run with a time of 2:57.5.
Nashoba sophomore Kyle Cloutier was right behind Heislein in the One Mile Run, finishing second with a time of 4:57.7. Senior John Atkinson placed second in the Two-Mile Run, clocking in at 10:48.3 with teammate and sophomore Ryan Gillooly right on his heels in third place with a time of 10:48.8. Junior Matt Pelland's time of seven seconds flat was good enough for fourth place in the 55-Meter Dash.
In the boys' 4X400 Meter Relay, the Chieftains crossed the finish line in third place with a time of 4:00.7, just over 11 seconds behind first place Algonquin Regional and its time of 3:49.6.
As for the Nashoba girls' team, the Chieftains and first-year head coach Ben Langelo were also doing their best to battle through a whirlwind of emotions to try to focus on Thursday's meet.
"It's been a tough day, coupled with the outside circumstances surrounding the week. I think there's still a haze around the team today. The kids are doing well, all things considered, "   said Langelo. "Today we didn't have any personal records, but the girls worked hard. Hudson always runs tough against us. I thought it was going to be a close meet from the get-go."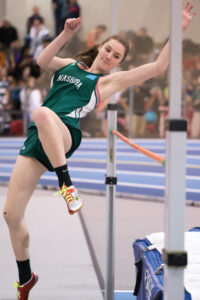 Sophomore Erin McNemar took second place in the high jump with a height of 4'8''. In the 1,000-Meter Run, freshman Cam Frend crossed the finish line in sixth place with a time of 3:38. Freshman Ashlyn MacLure was seventh in the 300-Meter Dash with a time of 48.6.
In the 600-Meter Run, junior Emily Suleski crossed the finish line in sixth place with a time of 1:55.1. In the 55-Meter Hurdles, senior Sarah Gaffney and junior Taylor Tower placed seventh and eighth respectively with times of 9.8 and 10.1.
"This really is a great group of girls and I love having the privilege of coaching them. They definitely make this fun for me," said Langelo. "I love coming to practice every day."
Following their successful performances, senior captain Natalie Bettez and Frend took a couple minutes to talk about the team and its ability to remain focused.
"This team is a really hard working team, it's been a little rough because we've had a lot of injuries," said Bettez, who finished 10th in the 1,000-Meter Run with a time of 3:45.4. "In terms of the recent tragedy, everyone has been really supportive. We wore the blue ribbons on our uniforms and the boys wanted in on it too. We wanted to try to show our respects in any way that we could."
Frend's strategy on Thursday night was a pretty simple one.
"I just tried to follow Natalie out there and when they told me to go faster I did," said Frend with a smile. "This was my first race back in a couple weeks. I was coming off a foot injury and tendonitis in my knees."