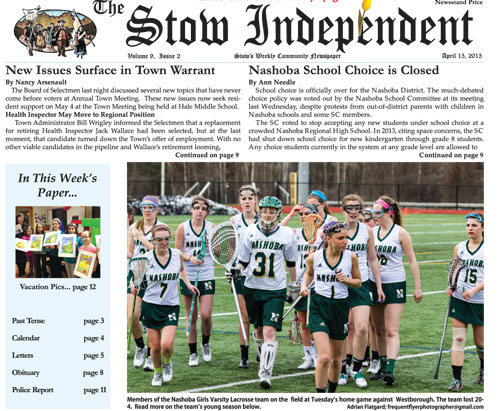 Subscribe for Home Delivery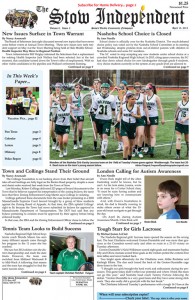 Along with the articles featured on our website, you will find the following in this week's print edition:
New Issues Surface in Town Warrant
The Board of Selectmen last night discussed several new topics that have never come before voters at Annual Town Meeting.  These new issues now seek resident support on May 4 at the Town Meeting being held at Hale Middle School…
Town and Collings Stand Their Ground

The Collings Foundation is not backing down from their belief that aircraft take off and landings are fully legal on the Barton Road property, despite a cease and desist order received last week from the Town of Stow. ..
London Calling for Autism Awareness
Owen Beck might tell of the often frustrating world he knows, but he can't. As his twin sister, Jessica, wrote in an essay for a Center School class, "It must be scary having autism and not knowing how to communicate with others."…
Past Tense
Obituary
Community Photos and Announcements

Classifieds
Puzzles
And more!