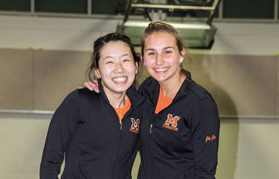 By Michael James LeClair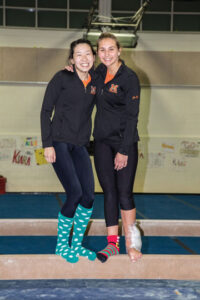 It didn't happen overnight but these Nashoba Regional athletes finally feel right at home.
Eight Chieftains have joined forces with athletes from two other schools to make up the Marlborough Co-operative Gymnastics team and while there may have been a lot of separation at first, the team has really come together as a whole.
According to head coach Samantha Kelley, the program is in its third year of existence. The team is a co-ed squad comprised of athletes from three area schools, Nashoba Regional, Marlborough and Tahanto Regional in Boylston.
"Marlborough and Tahanto were cooperative two years ago when the team first started," said Kelley following a recent competition against the Tomahawks of Algonquin Regional. "Last year we added Nashoba to the mix and obviously Nashoba is back again with us this year."
Kelley said that in the early stages of the 2014-2015 season the chemistry wasn't quite to where it needed to be to build a successful and thriving program.      "Last season you could definitely tell that there were three schools on one team, there was a lot of separation between the kids," she said. "By the end of last season and into this year things have been a lot better. The team has come together and has really blended well. The support level has been great."
This is the second year the Chieftains have been a part of the program and the school is well represented with eight members on the current roster including seniors Jo Jo Enzmann and Justin Olson.
"As a team I think today's meet went well. We had one of the best beam days that we have ever had," said Enzmann, a Stow native and senior. "I've been part of this program since last year but I've been involved with gymnastics since I was two and competitive since I was six. It was rocky when I first started last year, but by the end of the season things really began to click."
Olson, a senior that resides in Bolton, is in his first year on the team but has been competing in organized gymnastics since he was five years old growing up in Oregon.
"In my first three years of high school I didn't compete because I wanted to focus on school work, but this year I'm glad I came out for the team. I've been involved in gymnastics for the last 12 years," Olson said. "This year has been a lot of fun. It certainly has been a great year. I've really enjoyed myself being a part of this team."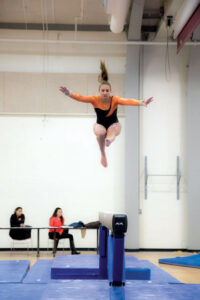 The Panthers held their senior night festivities recently and honored those that have put their heart and soul into the program, whether it was for one year or multiple years.
"I thought the meet and the whole night went pretty well," said Kelley. "It was a nice nigh to honor our seniors for all their hard work."
On this particular night, the Panthers were unable to send their seniors out with a victory  as the Tomahawks came away with a 135.3-133.6 triumph.
A total of four seniors on this year's squad are from Nashoba. The squad also features three captains, one from each school: Emily Dickson (Marlborough), Abbie McNichol (Tahanto) and Nina Hoag (Nashoba).
The team competes in the Mid Wachusett League with four other area high schools including Algonquin Regional, Westborough, Shrewsbury and Hudson.
In previous years the league has featured six teams, however, this winter Wachusett Regional failed to enter a team due to lack of numbers. Marlborough also participates in seven regular season competitions.
Similar to cross country in the fall and track and field in the spring, the team and its members can qualify for the postseason both individually and as an entire squad.
"Every meet the kids gain a little more confidence and they are constantly upgrading their routines," said Kelley.  "Having Nashoba as part of this program has been a great experience. I think it's a tremendous opportunity for those kids to be part of a gymnastics team because Nashoba doesn't offer it. The Nashoba kids have really excelled since coming on board."
In addition to Enzmann and Olson, other Nashoba athletes competing on the 2015-2016 winter roster include: Haley Doyle from Lancaster, Hoag from Clinton, Elise Davis from Lancaster, Meredith Goad from Bolton, Christine Luke from Stow and Maggie Salmon from Bolton.