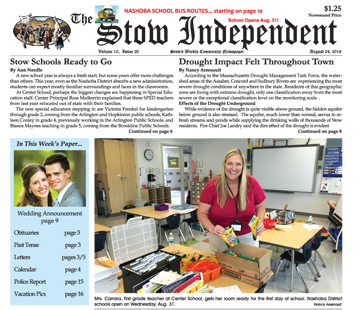 Subscribe for Home Delivery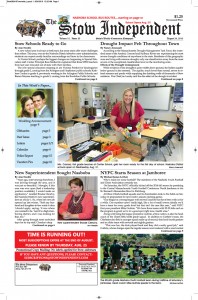 Along with the articles featured on our website, you will find the following in this week's print edition:
New Superintendent Sought Nasboba
"Years ago, interviewing elsewhere, I was driving through the area, and it was just so beautiful. I thought, if this area was ever open [had a leadership position available], I would make an application," recalled Brooke Clenchy, the Nashoba District's new superintendent as of July 1. So, when her new job opened up last winter, "Both my husband and daughter-in-law made it clear I should apply, saying, 'It was where you wanted to be.' And it's a high-functioning district, and I was looking for that, too."…
 Drought Impact Felt Throughout Town
According to the Massachusetts Drought Management Task Force, the watershed areas of the Assabet, Concord and Sudbury Rivers are  experiencing the most severe drought conditions of anywhere in the state. Residents of this geographic zone are living with extreme drought, only one classification away from the most severe or the exceptional classification level on the monitoring scale. ..
Also in this week's Print Edition…
Obituary
Past Tense
Community Photos and Announcements

Classifieds
Puzzles
And more!