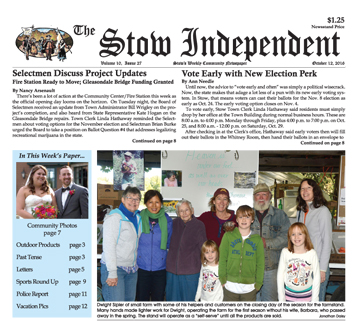 Subscribe for Home Delivery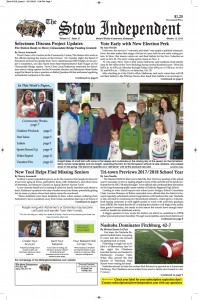 Along with the articles featured on our website, you will find the following in this week's print edition:
Selectmen Discuss Project Updates
There's been a lot of action at the Community Center/Fire Station this week as the official opening day looms on the horizon.  On Tuesday night, the Board of Selectmen received an update from Town Administrator Bill Wrigley on the project's completion, and also heard from State Representative Kate Hogan on the Gleasondale Bridge repairs. Town Clerk Linda Hathaway reminded the Selectmen about voting options for the November election and Selectman Brian Burke urged the Board to take a position on Ballot Question #4 that addresses legalizing recreational marijuana in the state…
New Tool Helps Find Missing Seniors
As Stow's senior population grows, so do the concerns that caregivers have for loved ones aging at home, particularly those with Alzheimer's and other forms of dementia, according to Council on Aging Director Alyson Toole…
Also in this week's Print Edition…
Past Tense
Community Photos and Announcements

Classifieds
Puzzles
And more!