STOW:
Judith Ella (Hickey) York, 77, a long time Stow resident, died peacefully Friday June 23, 2017 at her home surrounded by her family. She was the beloved wife of the late Peter Stack York, to whom she was married for 45 years at the time of his passing on June 24, 2014.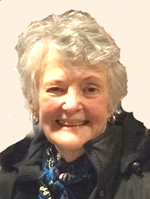 The daughter of the late Francis J. and Muriel (Keans) Hickey, Mrs. York was born in Glace Bay and raised by the seaside in Dominion, Cape Breton, Nova Scotia.   She graduated from MacDonald High School in Dominion and St. Francis Xavier University in Antigonish, Nova Scotia.  The highlight of her early years in education were two years teaching in Inuvik, the Canadian Northwest Territories of the Arctic Circle.  She added parkas and mukluks to her wardrobe and enjoyed the local pastimes of snowmobiling and curling tournaments.
She moved to accept a teaching position in the Reading, MA schools, and met her future husband in Boston.  The couple married in 1969, lived in Watertown and Hull, then settled in Stow in 1973 in the home Mr. York built for his family. Known as "The Lady on the Hill," Mrs. York loved her close-knit neighborhood.  She was a devoted wife and mother, and in later years lived for her grandchildren; enjoying visits, attending their events and baking "Nanny Muffins" and pies for all.   Her career in education continued for many years as teacher or librarian in the Maynard schools, Nashoba Regional District, St. Bridget's School and Immaculate Conception School, and was the children's librarian at the Acton Memorial Library.
Mrs. York loved to sing and is remembered for her beautiful voice.  She was very active in St. Isidore's Church in Stow with the music ministry and choir, taught CCD and loved being the "queen" of the parish St. Patrick's Day celebration.  Complete with a tiara, her dear friend Charmarie Wold dubbed her "The Duchess of York."  Mrs. York looked forward to organizing and attending the Hickey family reunions in Cape Breton and was very supportive of her husband's work with the Stow Lions Club.  She enjoyed a special bond with the Aylaian family, and will be dearly missed by her family, friends and neighbors.
Mrs. York is survived by three children: MaryLee York and husband Eric Smith of Stow, Juliane Shanley and husband Tom of Newbury, MA, and Paul Stack York and wife Dedra of Stow;  8 grandchildren: Jasper, Devin and Brennan Smith; Ben, Charlie and Kiera Shanley; and Rylee and Kellyn York; a sister Joan Richardson of Berlin, MA; a brother Wayne Hickey of Dominion, Cape Breton; many in-laws, nieces, nephews & their families. She was the sister of late Frank Hickey.
Relatives and friends are invited to visiting hours on Wednesday June 28th from 4:00-8:00pm in St. Isidore's Church, 429 Great Rd (Rte 117) Stow, beginning with the Reception Rite and Vigil (prayer service) followed by visiting until 8:00pm.   All are invited to the funeral Mass on Thursday June 29th at 10:00am in St. Isidore's Church.  Interment will be private at a later date. Those who wish may make memorial gifts to either the Little Sisters of the Poor, to benefit the Jean Jugan Residence, 186 Highland Ave, Somerville, MA 02143, or to The Emerson Hospital Foundation, to benefit The Bethke Center, 133 ORNAC, Concord, MA 01742. Memorial page www.actonfuneralhome.com